Unnatural Twins
Foothills Philharmonic Chorus
Exploring a variety of beautiful musical styles set to the same texts!
Throughout music history, there are some texts that sound so beautiful when put to music, that composers have chosen to re-use them. Our concert, Unnatural Twins, explores the beautiful varieties of music composed for similar prose. From Latin works shared by Mozart and Imant Raminsh (a Canadian composer in the Okanagan), to the Lords Prayer in English and Swahili, this concert compares and contrasts beautiful texts composed in equally beautiful, but wildly different styles. Come join us and enjoy the music of these Unnatural Twins, with guests, the Calgary Korean Canadian Choir.
Join us for a pre-concert talk for an opportunity to hear some history on the pieces being performed, ideas that went into their creation, and specific things to listen for. Many creative devices are used in composition to help the listener understand the meaning of the words, such as rising pitches on words 'rising to heaven', etc. Pre-concert talk will be at 7:00pm on both nights.
Concert Dates
May 12th, 7:30pm
High River Christian Reformed Church
May 13th, 7:30pm
Okotoks United Church

Tickets:
General: $20
Students and Seniors: $15
Ages 12 and under Free
Tickets available at the door, or online through Brown Paper Tickets.
A portion of the proceeds will be donated to the Heaven Can Wait animal shelter in High River.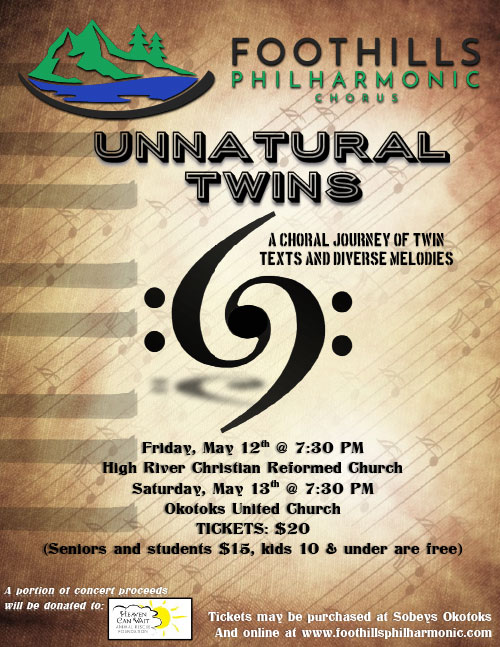 Join the Foothills Philharmonic Vocal Jazz at their spring concert on May 6th – Spring Swing