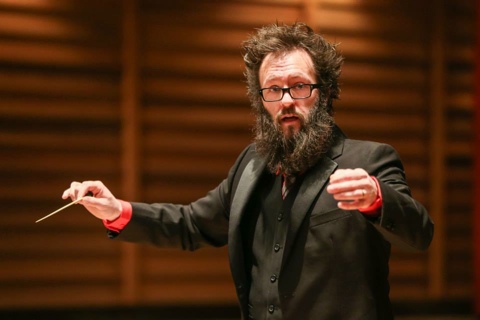 Having been a resident of the Foothills since an early age, Tim Korthuis and his wife have grown to love the beautiful hills, plains and mountains of the area, and the fantastic local music community.
Tim completed his Masters of Music in Choral Conducting from the University of Calgary in 2014, as well as holding a Bachelor's degree in Piano performance from Rocky Mountain College. He has toured as choral accompanist to New York, Montreal and Ottawa and his Graduate studies have included studies in Vienna and Bulgaria as well as studying with the Vancouver Chamber Choir under the direction of Jon Washburn, and the Spiritus Chamber Choir under Tim Shantz. He has had the pleasure to study and conduct many works including Brahms A German Requiem, Carl Orff's Carmina Burana, as well as works by Schubert, Mozart, Mendelssohn, Dvorak, Whitacre and Canadian Composers R. Murray Schafer and Stephen Hatfield among many others. He has also had the pleasure of conducting the World Premiere of On the Eve of Ivan Kupola by Anna Pidgorna at the U of C in January of 2013.
He has studied conducting under Maestro's Will Kesling, Alex Jiménez, Dian Tchobanov, Jon Washburn and Tim Shantz, as well as Dr. Colleen Whidden, Dr. Don Christianson, Professor Edmond Agopian and Henric Idestrom. His studies have also included Choral vocal techniques with Dr. Patricia Hrynkiw and Donna Kay, and Piano with Dr. Colleen Roller and Dr. Peter Jancewicz. He currently serves as conductor and Artistic Director of the Foothills Philharmonic Chorus, Okotoks Men's Chorus and the Diamond Valley Singers. He has also served as accompanist for several local choirs and performers including the Big Rock Singers and works as Worship & Arts Pastor at Okotoks Alliance Church. He has lived in Okotoks since 1984, and lives here with his wife and 4 beautiful children.
— Tim Korthuis, Musical Director