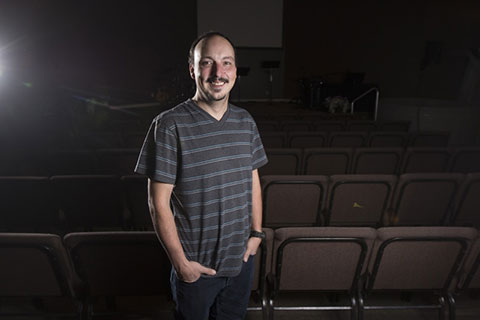 Shawn was born and raised in Okotoks, and has been involved in music in the Foothills for many years. Playing trumpet in concert & jazz bands at the Alberta High School of Fine Arts and getting his first taste of conducting in High School as assistant conductor for both choir and orchestra. Shawn also sang with the Alberta Music Conference Choir in his youth.
He continued his musical journey at the University of Lethbridge, graduating with his Bachelor's of Music in Trumpet Performance. He has studied trumpet under Trudi Mason, Josh Davies and Alan Vizzutti, and conducting under Tom Staples and LSO conductor Glenn Klassen.
Shawn has performed in various choirs, orchestras and musical productions at UVic, EWU, UofA, UofC, The Yardbird Suite in Edmonton, and further afield at Disneyland, in London (England), as well as in the occasional historic castle. He has also had the pleasure of conducting the premiere of the world renowned "Waves" composed by Rolf Boon (University of Lethbridge).
Shawn has been a lifelong fan of jazz music, both vocal and instrumental, and it was a natural progression for him when asked to lead the group from its inception in the Summer of 2016. He is extremely excited for the future of the Vocal Jazz, the Foothills Philharmonic Society, and bringing more great music to the Foothills.